Priority Programme (SPP 1959)
"Manipulation of matter controlled by electric and magnetic field: Towards novel synthesis and processing routes of inorganic materials"
The DFG Priority Programme SPP 1959 is a worldwide unique, coordinated, major research effort, funded for a periode of around six years (2016-2023). Started in September 2016, the SPP 1959 is meant to extend the current level of understanding on how to influence or tailor materials microstructures by the use of external fields. An objective is a unified description of matter transport activated in inorganic solid materials by electric and magnetic fields.
Within the two funding periods of three years each, a total of 25 projects are providing a fundamental basis built on experimental evidence for understanding how atoms, ions, electrons and defects are affected by external fields.
If you are interested in getting to know our SPP 1959 in a relaxed and interactive atmosphere, we would like to invite you to take a look at our online exhibition created with Genial.Ly.
How to do it?!
Using the buttons below, you can go directly to our online exhibition either in English or in German.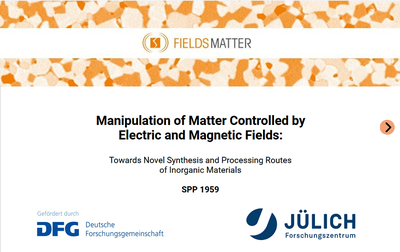 There is also an option to download the exhibition as a zip file in order to view the exhibition offline.
Please download the corresponding language version of our exhibition via one of the buttons below. The exhibition will be saved as a zip-file in your download folder and must be unzipped first (right click on the file). As soon as this is done you can open the HTML document with a double click and get to know us!
Important: Please leave all documents and folders from the zip folder in the unzipped folder! This is the only way for the Genial.Ly presentation to work properly.
Here you can find an overview of all institutions that are/were involved in the projects of the first and second funding period of the Priority Programme: